Lincoln Center - Lincoln Square - Neighborhood - Upper West Side
Lincoln Square Bounded by 59th Street, 70th Street, Columbus Avenue and West End Avenue, the Lincoln Center neighborhood is most closely tied to its namesake Lincoln Center for the Performing Arts - the 16.3-acre cultural hub that gave birth to the area's renaissance and is now home to the Metropolitan Opera, New York City Ballet, and the Julliard School, to name a few. The vibrant neighborhood Lincoln Square is the name of both a square and the surrounding neighborhood within the Upper West Side. The square between 59th and 70th Street has the tallest buildings on the Upper Side. Many are 40 and 50 storeys. Zoning between West 72nd and West 96th Street prohibit buildings taller than 20 storeys.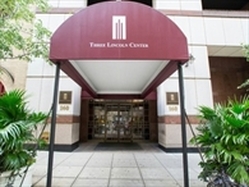 One of the first high-end residential buildings to open in the area was One Lincoln Plaza, a 43-story condominium with 663 apartments completed in 1974. Other buildings soon followed suit, including The Alfred, a 38-story building at 161 West 61st Street, and 3 Lincoln Center at 160 West 66th Street, the only residential building located within the Lincoln Center of Performing Arts complex.
Lincoln Towers
built in 1961, was part of a vast urban renewal program centered around the new Lincoln Center for the Performing Arts. The eight Lincoln Towers buildings are situated on a 20 acre campus in the middle of Manhattan's Upper West Side between West 66th and West 70th Streets conveniently located near Lincoln Center, Central Park and Riverside Park.
---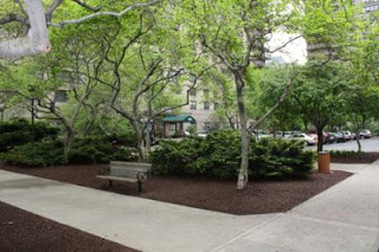 The Lincoln Towers buildings are situated opposite open space, trees, playgrounds and parks, including a private, gated, five acre park complete with children's playground, basketball courts and hockey rink.

The 28 and 29 storied buildings have many different floor plans ranging from small and large studios to 1, 2 and 3 bedroom units many with dining alcoves and terraces and abundant closet space. Each building is an independent cooperative with it's own rules and purchasing requirements but residents retain access to and shared ownership of the beautiful gardens and playgrounds that surround the complex that can be accessed directly from the buildings.

The building's amenities including storage, bike, playrooms, fitness clubs, central laundry and parking on the premises, garages, valet parking and 24 hour doorman/concierge and private security force.

Additional plans are underway for the redevelopment and expansion of Lincoln Center's Fordham University campus.The Lincoln Center is served by 1, 2 and 3 trains at 72nd Street; the 1 train at 66th Street; and the Columbus Circle station, providing service via the A, B, C, D, and 1 trains. Shopping includes The Apple Store, Century21, Bed Bath & Beyond, as well as a Sony and IMAX movie theater.

---
If you would like to Buy or Sell a Lincoln Center condo or coop or townhouse, please contact me at 212-877-6268.
If you would like to receive available property listings in the Lincoln Center neighborhood please fill out the Manhattan Buyer form below and press submit.