Chelsea | West Chelsea Condo, Condop, Coop Apartments & Townhouses

19th Century Townhouses to Pre-war Coops to Post Modern New Luxury Condo Developments

Chelsea is located between 34th Street and Greenwich Village on the West Side. Chelsea is largely a residential area with a varied mix of high-and mid-rise buildings, brownstones and industrial lofts. The architecture in this area is unique. East of Ninth Avenue, the spacious and stylish loft warehouses give way to stunning landmark townhouses, prewar co-ops and new luxury high-rise buildings.

One of the most architecturally distinct pre-war buildings is London Terrace, a 1929 complex that runs the entire block from 23rd to 24th Streets between Ninth Avenue and Tenth Avenue. London Terrace includes a common garden, a pool, and 1,700 units in co-ops (known as the Towers) and rentals (known as the Gardens.) In 1930 London Terrace was the largest apartment complex in NYC and in the world located across the street from the fashionable townhouses and Fitzroy brownstones on "Millionaire's Row".
West Chelsea | The High Line

Chelsea has also become a hub for media and creative people and high energy businesses. Google has their New York Headquarters in Chelsea, along with numerous ad agencies and media companies and the Frank Gehry designed glass building on the West Side Highway opposite the Chelsea Piers, the headquarters for media, e-commerce mogul Barry Diller's Interactive Corp.
The High Line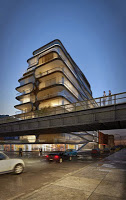 West Chelsea from 10th Avenue to 11th Avenue, from 16th Street north to 30th Street, is booming with new condo developments that have transformed the once gritty
Manhattan
neighborhood into a fashionable destination. Most of the new developments are around the High Line. New condos with new park views.
Zaha Hadid's 520 West 28th Street
new construction 2014
520 West 28th Street will be Hadid's first residential project in New York City, which will contain 37 condos of up to 5,500 square feet each. Designed with multiple elevator cores, a majority of the residences will have a private vestibule and entrance that adds to the intimacy of the building.
The double-height entrance lobby offers glimpses beyond to the residents' communal spaces and outdoor garden. Large terraces, courtyard, indoor pool & spa, entertainment space and playrooms give additional opportunities to relax and entertain.
---
If you would like to Buy or Sell a Chelsea home, please contact me at 347-921-Hall (4255) or fill out form below.