Clinton / Hell's Kitchen / Midtown West /Apartments & Townhouses

Some still argue about the exact boundaries of Hell's Kitchen, but it's commonly considered to run from 34th to 59th Streets and from Eighth Avenue to the Hudson River. The area is also known as Clinton and long-time residents use the two terms interchangeably. East of Eighth Avenue including Carnegie Hall and Time Square is considered midtown west.
Hells Kitchen has always been a neighborhood, made up of blue-collar families in walk up railroad flats and theatre people who wanted to live close to where they work. For 15 years the neighborhood has been changing. It has become renovated, gentrified. New condo construction along with many new restaurants and bars have opened in the neighborhood.
The new generation of Hell's Kitchen, are folks who started looking on the
Upper West Side
and
Chelsea
then realized they could enjoy much the same lifestyle in midtown west. For the past century, the typical apartment was a walkup tenement now it's a luxury rental or condo with post modern finishes: grand lobbies, lots of granite, lots of glass, high-speed Internet access and health club and other amenities.
The area to the far west in the 30's is slated to be developed adjacent to the Jacob Javits Center and the development of the
Hudson Rail Yards
and the High Line Park which will run from Hells Kitchen through West Chelsea to the
Meat packing district
in the
West Village
.
Hells Kitchen has many different types of apartments from walk up coops to townhouses to renovated lofts to ultra luxury high rise condos. The eclectic neighborhood has some great restaurants, bars, night clubs and Broadway and off Broadway theatres.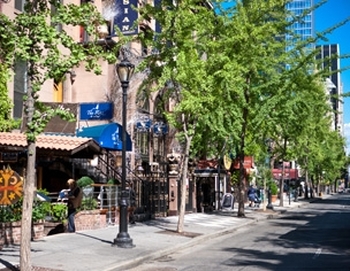 If you would like to buy or sell a Clinton / Hell's Kitchen home. call me at 347-921-HALL (4255)

If you would like to receive Clinton /Hell's Kitchen Townhouse, Coop or Condo listings, please fill out Manhattan Buyer form below and click submit.