Harlem Apartments & Townhouses
West Harlem, Central Harlem, East Harlem
Hamilton Heights, Strivers Row, Sugar Hill
Harlem Real Estate - Brownstones - Condos - Townhouses
Harlem is mostly a housing fusion of palatial 19th century brownstones, spacious pre-wars and dingy tenement walk-ups. A diversified mix of New Buyers are coming to Harlem for the neighborhood's history and the immaculate houses and brownstones.

Harlem provides an opportunity to live in a neighborhood with small-scale buildings without having to buy the whole building. These apartments, typically floor-throughs and duplexes ranging from $500,000 to $1.7 million provide town house amenities, like terraces, gardens and fireplaces, and uncommonly good light for Manhattan. Larger condo buildings with doormen and other amenities are on Harlem's avenues.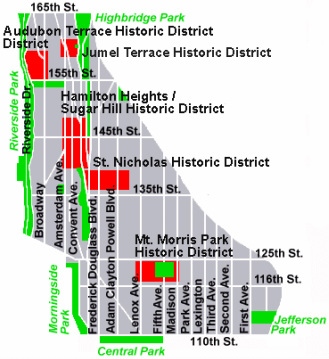 The East Harlem/El Barrio (Spanish Harlem) community stretches from First Avenue to Fifth Avenue and from East 96th Street to East 125th Street.
Central Harlem stretches from Central Park North to the Harlem River and from Fifth Avenue to St. Nicholas Avenue.
West Harlem, including Hamilton Heights and Sugar Hill, stretches from 123rd to 155th Streets and from St. Nicholas Avenue to the Hudson River
If you would like to Buy, Sell or Rent a Harlem home, please contact me at 347-921-Hall (4255).

If you would like to receive New Listings of Harlem Townhouses, Harlem Condos and Harlem Coops please fill out the Manhattan Buyer form below.