Flowers and trees in Tompkins Square Park, Photo by Daniel Avila

East Village Apartments & Townhouses | East Village Real Estate


The A Building
The East Village is downtown on the East Side, from Houston to 14th Street and from the Bowery and Third Avenue to the East River.
Whether it's the mushrooming of modern new condos or the reclamation of some beloved parks, few neighborhoods have changed as much over the past couple of decades as the East Village.
The growth of New York University to the West has helped drive the East Village's renaissance, so that old-fashioned retail like hardware stores stands cheek-by-jowl with shops where you can buy all kinds of trendy luxury.
Much of the East Village housing stock is tenement-style walk-ups with co-ops for sale or rentals that make great shares, but some offer hidden delights like roof decks and garden access to their residents.
In recent years, the East River park has gotten a new soccer field and a rebuilt amphitheater, but the green center of the neighborhood is Tompkins Square Park bordering Avenue A.
If people watching is your thing, you couldn't have a better view: check out its fun playgrounds and state-of-the-art dog run, beloved by pooches from all over the East Village.
Neighborhood eateries range from pocket-sized French bistros to a string of two dozen Indian joints to pierogi palaces.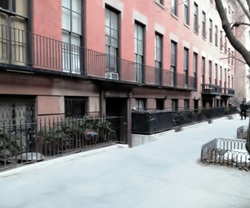 The Saint Mark's Historic District is located in the East Village on land that was owned by Peter Stuyvesant in the 18th century. When Stuyvesant Street was laid out in 1787, it ran, as it still does, directly east-west, which is why the street now is offset from the Manhattan grid that is laid out in line with the island's north-south axis.

Two federal houses and the neighborhood's anchor, St. Mark's Church, survive from Stuyvesant's lifetime. He gave the church the land on which it sits. and money toward its construction.

The rest of the buildings in the district are primarily mid-19th century, Italianate row houses. These brick row houses with stone cornices, brackets, and door portals give the district its formal, residential character.


---
If you would like to Buy or Sell an East Village home, please contact me at 347-921-Hall (4255).

If you would like to receive available property listings in the East Village please fill out the Manhattan Buyer form below and press submit.
©nycBLOGestate | ©MitchellH_all | ©MitchellJHall | ©nycBroker | ©ManhattanBlogEstate | ©Condos-Manhattan | ©MitchellSellsManhattan